AOV-TOP >> Deposition Systems

AOV produces thin film deposition systems that are each customized to meet the requirements of diverse customers.
Categorically, AOV's deposition systems utilize either the physical vapor deposition (PVD) or the chemical vapor deposition (CVD) methods.
PVD systems are further categorized as follows, all of which are in AOV's product line along with the CVD systems.
Pulsed Laser Deposition Systems
(PLD)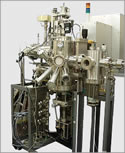 Magnetron Sputtering Systems

Electron Beam Deposition Systems
(EB)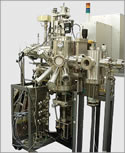 Ion Beam Assisted Deposition Systems
(IBAD)

Distinctive features in high temperature substrate heating technique and stable motion control mechanism under high temperature and high atmospheric gas pressure environment of oxygen, nitrogen, argon, etc are valued highly by the users of our systems.
Whether it be a small PLD apparatus for R&D purpose or a large scale PLD system with a high power laser for production line, AOV produces and deploys them in the form of complete systems, consisting of laser, delivery optics and the film deposition system.